Although we did this quite awhile back, but I never got around to posting it. But my kids enjoyed doing it so much that I wanted to make sure that I shared it with you!
So, this is the craft that we made to go along with the Bible story of Moses parting the Red Sea from Exodus 14.
First take a piece of paper and fold in it so that the outer edges meet at the middle. (Take a look at the pic to get an idea of what I mean.) Then, have your little one use watercolors to paint the middle part of the paper brown. Paint both sides of the outer flaps blue. The brown will be the land and the blue will be the water. Once dry use some "people" to represent Moses, the Israelites, and Pharaoh's army. (We used some clothespin people that we made for another Bible craft.)
Once you have everything ready, read the story and have your little one re-innact the story using the pieces. Start with the side flaps folded down so that the brown is not showing. When  Moses stretches out his hand and the Lord parts the sea, your little one should open the flaps and let Moses and the Israelites walk through. However, when Pharaoh's army tries to cross the sea, fold down the flaps so that they are drowned in the water.
For another Red Sea craft (that is super cute) check out Making Friends. (I saw this after we did our craft. I think if I would have seen if first, we might have done it instead…)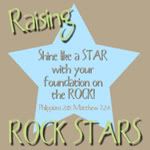 Want to see how others are raising their Rock Stars? Just click the button above.