Check out this easy-to-make, printable nativity set for your kids! This adorable nativity scene will have your kids engaged for hours!
For years, my daughter asked for the same thing – every single Christmas. Her own nativity scene. Without fail, as I carefully unwrapped each porcelain figurine, she would beg to help. I never said no, but I never said yes, either. Although I strategically diverted her attention elsewhere, I still felt like a bad mom. Why it took so long for me to finally get a kid-friendly nativity set escapes me.
Since we enjoy being creative and crafty, I eventually wised up and stopped trying to be sneaky about keeping my kids from breaking my "coveted" nativity set. I decided to let the kids make their own! Sure, I could have bought a Fisher Price nativity set, but after searching online I found a few adorable, free, printable nativity sets…and I like free!
Color Your Own Printable Nativity Set
The first printable nativity set we found (shown below) was a black-and-white scene. It was perfect for my daughter! She got to color all the pieces and everything! Plus, she loved that it came with a manger that we could make…rather than using an old shoe box as we did for her brother's nativity set.
Unfortunately, the link (from Scrapbook Scrapbook) for the printable nativity scene shown above is no longer available. However, in the 2022 update of this blog post, I have gathered some other super adorable black-and-white nativity sets to choose from:
Free Printable Nativity Craft from Catholic Icing – This nativity set uses toilet paper rolls and comes in both a color and black-and-white version.
Free Printable Nativity Scene from Mommy Made That – This color-your-own nativity scene is unique because the figures are cone-shaped.
Printable Nativity Scene to Color from Ayelet Keshet – This subscriber freebie is a cute hand-drawn nativity scene that includes tabs to stand up the figures.
Printable Nativity Set (No Coloring Required)
Since my boys aren't as patient and meticulous as my daughter, we opted for a nativity set for them that didn't require any coloring. They had a blast playing with it!
The best part is that it was super easy to make! My boys were having fun with their nativity set in no time at all!
Below are the supplies (including the download link) and the instructions to make the printable nativity scene shown in the picture above.
Printable Nativity Supplies:
printable nativity pieces (downloaded from Making Friends)
cardstock paper
tape
toilet paper tubes
Printable Nativity Instructions:
1. Simply print and cut out the nativity figures.
2. Cut the toilet paper tubes into small rings. Tape one ring to the back of each figure to make it stand up.
3. Finally, have fun playing with your nativity scene.
*As an added bonus, grab an old shoe box for the manger and add some shredded brown paper for hay.
No More Mom Guilt…
Once my kids had their own nativity scenes, I let them set theirs up while I set mine up. I no longer had to divert them. What's funny is now that my daughter is older and has completely outgrown her homemade nativity set, she still asks to set up the nativity scene. Now, I happily let her unwrap each and every porcelain figurine to display during the Christmas season. Funny how time changes things!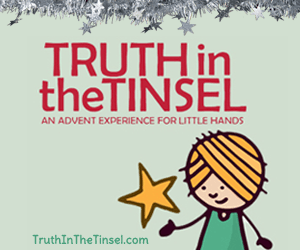 More Christmas Crafts:
Looking for some more fun, easy-to-make Christmas crafts for your kids? Check out some of our favorite Christmas crafts from years past:
Craft Stick Christmas Tree Ornament – Use popsicle sticks, rhinestone gems, and some paint to make this cute Christmas tree ornament.
LifeSaver Candy Cane Ornament – Use pineapple and cherry LiveSaver candies to make this "tasty" Christmas tree ornament.
Easy Snowman Craft for Little Ones – Use a recycled plastic jar and some cotton to make a cute snowman craft!
Clothespin Reindeer Ornament – Use clothespins to make a Rudolph the Red-Nosed Reindeer ornament for the Christmas tree.
Pumpkin Snowman – Use the pumpkin on your front porch to make a snowman to display for the Christmas season.
This post was originally published on December 17, 2009.