This page may contain affiliate and/or advertiser links. Please review my disclosure policy.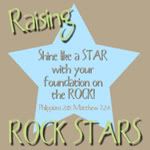 This week for our Bible lesson, we focused on Matthew 7:24-27 where the wise man builds his house on the rock. It went perfectly with KJ's study this week on rocks (which I will post about at the end of the week.)
So, I began by reading the story and explaining that Jesus is like the rock and that when we listen and obey Him, it is like we are building our house (our life) on The Rock, Jesus Christ!
Totally making the connection, the kids began to remind me about the God Rocks episode where they talk about building on The Rock. They all belted out the lyrics to the song. I even chimed in with them! I couldn't help it, I love God Rocks! We also sang the lyrics of the hymn "On Christ the solid Rock I stand. All other ground is sinking sand."
So, to really hit home the idea of Christ being the Rock and to further illustrate Matt 7:24-27, we build a house on a rock and a house on the sand.
And we used a watering can to "rain" on the houses…
…and we watched the house built on the sand wash away, while the house on the rock stood strong!